Meet Missy Schaaf & Natasha Chuidian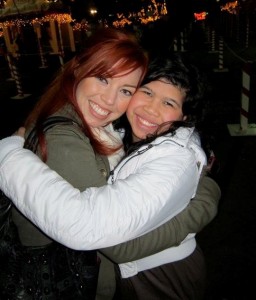 When Missy and Natasha were introduced they knew they had a special connection. Both of them agree that the past four years have been filled with fun experiences and true friendship. Since their friendship began, the ladies have hung out at least once every two weeks, seeing shows, grabbing coffee and eating sushi (Natasha's favorite). "What's surprising to me is I think we have to go to all these places, but sometimes all Natasha wants to do is go to my house and hang out," Missy said. "Anything we do there's always laughing and impromptu dance movements," Missy said.
Not surprising as Missy is a professional dancer in Las Vegas. However, for Natasha, life before meeting her Buddy was not always so carefree. "I was kind of lonely," she said. "Now, I'm more outgoing and happy." Missy's life has changed as well. She feels less selfish and more fulfilled. "It has made me appreciate the smaller things in life," she said. "Now that I'm a part of Best Buddies, I can't imagine not being part of this group." And Natasha can't imagine not being friends with Missy.