Meet Danny Huff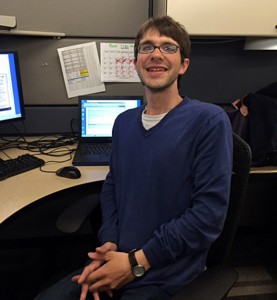 Danny has been employed by Silicon Valley Bank (SVB) as a clerical assistant for two years and he has made a lasting impact on the individuals he works with. Danny's story of overcoming a low point in his life where his unemployment controlled his personality is inspiring. Best Buddies Illinois is proud of Danny and how he has represented the Jobs program for the state. Danny is proud of what he has accomplished and has goals to bring more to his team at SVB as he gains more experience. No doubt that Danny's future at SVB is very bright, and he is certain to continue representing Best Buddies Illinois as a Jobs Superstar.
Danny worked a stable job for more than four years. He was unexpectedly let go, not due to his performance, but because the company was no longer able to employ him. Danny and his mom, Diane, both remarked on how this was a very low point in his life. Danny was depressed, not acting like himself, and just wanted to work. He was continually job searching, and received rejection after rejection. Before getting actively involved with the Citizens and Jobs program, Danny did not have many opportunities for social interactions, and Danny's parents constantly worried about his well-being.
Danny got connected with the Best Buddies Jobs program in June 2013 after a staff member reached out to him about this new program. He was eager to work, and his mom Diane remarked, "It's important to his sense of self to be a worker." Danny's cheerful personality and ability to work well with others made him an ideal Jobs candidate. His Jobs coach took him to his first interview at SVB. Only a few weeks after his initial interview in June 2013, Danny was hired as a clerical assistant. When reflecting on this period of time from when he was unemployed to getting his job at SVB, he says, "There was a light at the end of the tunnel."
At SVB, Danny's daily tasks vary day-to-day, but some of the things he loves to do are distributing the mail and filling the copiers. Katrina, his direct supervisor, says, "He is the happiest guy. He never has a bad day." Danny is widely known throughout SVB's Chicago office, and has made friends with many of the employees there. Every Thursday, Danny and his work friends go out to eat together; Katrina says that this relationship between the other co-workers and Danny has become personal- they are friends outside of work as well. Danny was privileged to attend a conference in California with SVB and have his first work conference experience.
Danny has aspirations of being a mentor to others and learning data processing at SVB. He is working hard so that he can get more work hours and eventually a raise. Danny also has become more self-sufficient and started a savings account. His confidence and self-worth has increased, and subsequently he has immersed himself in various social events when he is not working.