Leadership Development: Ambassadors & Self-Advocates
The word "Ambassador" often brings to mind the image of international relations. We think of the people in the U.N., global diplomats, and delegates; who by representing the interests of their countries and communities, work toward social change. At Best Buddies Illinois, we want to make sure that the voices of our community, especially those with intellectual and developmental disabilities (IDD), are heard. One way we do this is through the Ambassador program.
More than 120 Ambassadors have been trained through the program and Best Buddies Illinois is dedicated to hosting six (6) more trainings during the 2015-2016 school year. Each training, lasting 4-6 hours, focuses on public speaking skills, speech writing, and editing, and is open to any program participant with an intellectual or developmental disability, starting as young as middle school.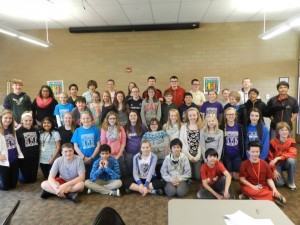 Throughout the training, participants are paired one-to-one with a volunteer Speech Coach to aid them in working on their personal mission statement, crafting and practicing their speech, and supporting them as they present their speech to the group for the first time at end of the training.
Ambassadors represent Best Buddies in a variety of environments such as special events, volunteer fairs, sponsorship meetings and school visits. We have even had Ambassadors who have gone on to become Global Ambassadors for Best Buddies International!
The Ambassador program provides Best Buddies Illinois an invaluable resource of strong leaders who, through personal stories, inspire others to join our mission of social inclusion and employment for people with intellectual and developmental disabilities. They are our advocates, they are our voice, and they are our answer to stronger, more accepting communities.
On September 19th, five (5) charismatic and motivating leaders from our Citizens and Jobs programs in the Chicago area were added to our pool of Ambassadors. On Saturday, October 17th, the Central Illinois office held their first official training and welcomed four (4) new Ambassadors into the program. To learn more about the Ambassador Program, contact Lauren Mislove at LaurenMislove@bestbuddies.org.