Meet Erin McNulty & Scout Weymouth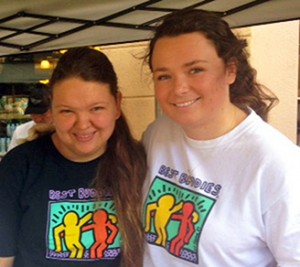 Erin and Scout have been a buddy pair for three years. They were matched Scout's freshman year and immediately hit it off. The pair participates in many Best Buddies sponsored activities together and for the past two years have volunteered at the Best Buddies' Life Is Sweet event where they worked with local chefs to create and serve desserts for guests. Both Scout and Erin are consistent in attending events and committed to assisting Best Buddies Hawaii in any way they can.
Scout feels honored to have been partnered with Erin and enjoys introducing her to new friends and including Erin in activities she participates in with other students. Although Erin and Scout no longer attend the same school, their friendship is built on a solid foundation and has proven to stand the test of time.
"Before I joined Best Buddies, my only extracurricular activities were sports and music lessons. I was paired with my buddy Erin during my freshman year and we have been buddies ever since. My friendship with Erin has grown tremendously over the past three years. I enjoy talking to her about lots of things because she gives me a different perspective on many aspects of life. I have gotten to know Erin's likes and dislikes. For example, if there is a certain activity early in the morning I don't even bother forcing her to come with me because I know how much Erin loves to sleep in on the weekends.
"As a Best Buddies officer, my goals going in to 2015 are to help my chapter grow and to encourage more high school students to get involved. It's a hard task but I want to improve my peers' understanding of individuals with intellectual and developmental disabilities (IDD) and show them what Best Buddies is all about.
"My perspective on community service has completely changed since I joined this organization. Because of Best Buddies, I want to devote my life to community service."