Meet Cate Alix and Sydney Winnick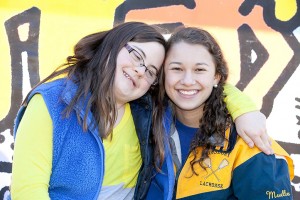 Syd & Cate's story is a little different than some of the other buddy pairs that you may hear about. The reason being that Syd & Cate did not become friends through Best Buddies; but, because of their lifelong friendship and their desire to enable other kids to have a friendship like theirs, they decided to start a Best Buddies chapter at Simsbury High School. This is their story in their own words.
"Cate and I met 12 years ago in first grade. We were in the same class and I noticed Cate was out sick a lot and I found out that she was in the hospital with pneumonia, so I asked my mom if she would take me to see Cate. We hung out in her hospital bed and watched Scooby Doo, took naps, ate french fries and we've been best friends ever since. We do everything together. We watch our favorite show every Sunday night — The Walking Dead; we were on the track team together, we sleepover at each other's houses, we went on vacation together at the Outer Banks, spent lots of days in New York City together, we had our sweet 16 birthday party together, and I am always at Cate's house. It's kind of like we are part of each other's families. We never even thought about our friendship over the years, we've just always been best friends. And when we got older I began to realize that no one else seemed to have a friendship like ours.
"I heard about Best Buddies and I decided to learn more about it. I thought it was awesome and just what our high school should have. So Cate and I decided to try and get a Best Buddies chapter going at our high school. After about a year of working with our high school administration and the Best Buddies Connecticut staff, we got a chapter started and now there are about 65 kids who are members of our SHS Best Buddies Club and about 15 buddy pairs. There's already more school spirit, more friendships, and it's just the best. Kids who never knew each other before are now friends and big groups from our SHS Best Buddies club go to football and basketball games together, go to the movies, go out to eat and just hang out together. Starting the Best Buddies club at Simsbury High School is the thing I am most proud of. Maybe that's the legacy that Cate and I can leave when we graduate Simsbury High School– that we started a club where everyone gets to be himself or herself and that lets people have the great experience of having a friendship like Cate and I have."