Meet Lauren Cantrell & Ashley Waltz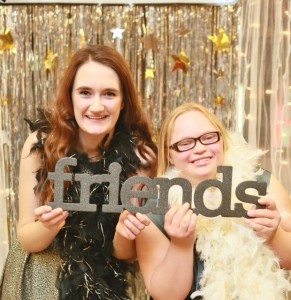 Buddy pair Lauren and Ashley met on their first day of high school. With no Best Buddies club on campus, Lauren made it a priority to get to know her peers in her special education classes.
"Ashley was one of my first friends in high school," Lauren said. "I'm so thankful to Best Buddies for bringing us together."
On the second day of school, Ashley shared a picture of herself in a hospital room and told the class she was a cancer survivor. Lauren could not believe that a girl who had gone through so much could be one of the happiest people she had ever met. Ashley's optimistic outlook on life is one of her greatest attributes and part of the reason Lauren and Ashley quickly became such great friends.
In 2012, Best Buddies was finally brought back to Mesquite High School. While Lauren and Ashley were not officially matched up, they still spent time together and saw each other often. The next year, Lauren made sure that she and Ashley were matched as buddies. One of Lauren's favorite memories from that year was being greeted by Ashley every morning.
Whether it is Ashley saying a simple "good morning" or the two of them singing together in the car, it is the little things that remind us that friendship has no borders.
"I love Ashley and I love Best Buddies for bringing us together," Lauren said. "She has given me more than I could ever return."