Meet Charles Calhoun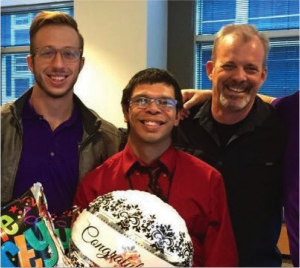 "My name is Charles and I work at Silicon Valley Bank (SVB). I joined Best Buddies nine years ago. I was invited to join the Ambassadors program where I learned how to give presentations, worked on my public speaking skills, and how to better prepare for job interviews. I eventually joined the Best Buddies Jobs program and it was Tim Bolen, Best Buddies Arizona's State Director, who led me to my career path with Silicon Valley Bank. Tim personally helped me with my interviewing skills and he continues to work with me, two years after starting my job there.
"Best Buddies is a gateway to fulfilling so much in our lives. Best Buddies has given me self-confidence, courage, and opportunities, but most importantly, it has helped me secure a job. I have so many great co-workers who support me and I look forward to going to work every day. I feel I am a true asset for SVB."
"Charles is one of those individuals that can make anyone smile no matter what kind of day they are having. Charles works very hard and he shows up for his job every single day. It is a win across the board. Win for Charles, win for SVB and a win for the employees. Win! Win! Win!" Ken Veach, Director of Vendor Management, Silicon Valley Bank.