Game Night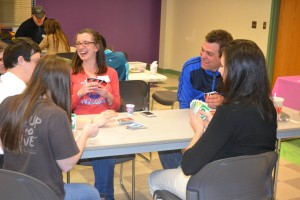 Over 30 people with and without intellectual and developmental disabilities enjoyed an evening of fun and friendship on October 19, 2015 at the Easter Seals of Delaware in Georgetown.
This event was part of our larger effort to expand Best Buddies programs in Sussex County where there are nearly 1,000 persons with an intellectual or developmental disability (IDD), according to June 2015 DDDS figures. Financial support for this downstate expansion is being provided by the Division of Developmental Disabilities Services (DDDS).
Deanna Blizzard of Milton and Shalanda Lawson of Ellendale were matched in June of 2014. "I love the program. Being matched with Shalanda has been a very rewarding experience. I hope more people in our community will become involved and be a Buddy to someone who really needs it," said Deanna Blizzard, who is volunteering with Shalanda to expand Best Buddies programs downstate.
For more information on our Citizens program, please contact Anne Karwath.