Boogie for Buddies a Success!
The annual Boogie for Buddies event was held at Dean's List Academy on February 28, 2015! It was a great day to get up, get out, and get moving in this long and cold winter we have had!! The day consisted of a variety of classes including, yoga, dance and a class designed by our friends at Boulder Dash.
There were over 125 participants this year; our biggest turn out to date! We would like to thank our friends at Boulder Dash, Bee in Motion, and Emily Rosenbaum for their great teaching.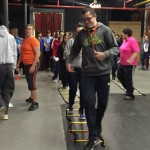 Thank you to Whole Foods for providing lunch this year. Thank you to all of our wonderful volunteers for coming with your buddies and making the day a great success!
A quote from a long time participant Tessa: "It was the BEST Boogie ever!"
For more event pictures, please visit our Facebook page.