Meet Brian Burbage & Robbie England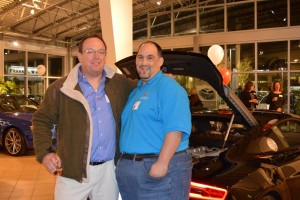 Brian and Robbie are great examples and role models for how a true integrated relationship should be in our world. They both are very busy with their own lives through work and family, yet each commit to spending quality time with one another. Brian plays in a band and Robbie is the best roadie of all time. They never lose sight of what a friendship is all about. Even while Brian is hard at work playing the drums he never misses a beat and takes the time during his performances to acknowledge Robbie as his number 1 fan! This Citizens pair is bound to be great lifelong friends.
"I have led a full life and have always been involved in activities outside of my day-to-day job. I work as a banker, run a small lawn care and handyman service with my son, volunteer as the president of our neighborhood maintenance corporation, play in a band which plays volunteer events throughout the year, and now…I also volunteer with Best Buddies. I mentored an associate at work who was involved in Best Buddies. I had her come to one of our staff meetings to present the opportunity to the team. As a result, a peer of mine and I both volunteered to participate in the Citizens program.
"My buddy Robbie and I love music, so I give him drum lessons, and he comes to most of our gigs and helps the band as a 'roadie'. Robbie also joins our family for almost every holiday meal and occasionally dines with us at restaurants. We also like to watch football games together. Robbie also enjoys hanging out with my son and racing his RC cars. Robbie has even enjoyed learning to drive the commercial zero turn lawn mower we use for our business. Since knowing Robbie, I have a much greater perspective on the needs of individuals with intellectual and developmental disabilities. Simply providing them with a friend to talk to or hang out with is a BIG deal. Imagine life without having a friend you can talk to…it's that simple."