Meet Andre Williams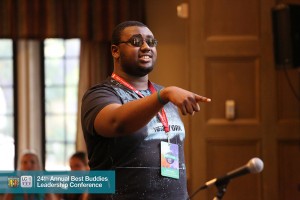 Andre, Best Buddies Massachusetts Ambassador extraordinaire, has been involved in four different programs and represents Massachusetts on the national Best Buddies Young Leaders Council (YLC). Andre's involvement speaks to the success individuals can achieve when they
engage with Best Buddies' full continuum of services. Andre joined Best Buddies in high school, gained confidence and experience with social skills, and after graduation joined the Best Buddies Jobs program. As his interest in self-advocacy grew, Andre got a job with Mass Advocates Standing Strong and began to speak at Best Buddies events, both locally and nationally. Andre, now a poised young professional in his 20s, speaks eloquently about his life experience and his growth through Best Buddies in front of diverse audiences every year.
Before Best Buddies, life for Andre was one of isolation without friends. He felt like no one really wanted to talk him and that he was a burden to people. Two years ago in Indiana at the Best Buddies Leadership Conference, he met his best friend Harrison who was the incoming chapter president for a high school in Massachusetts. "Meeting Harrison was one of the most memorable moments for me. He just understood me and all I had been through," says Andre.
Andre's mom was the driving force behind him joining Best Buddies. She encouraged Andre to try it out, but told him he didn't have to continue the program if he didn't love it. Today, Andre's goal as a self-advocate is to make sure that people with disabilities' voices are heard. "I want people with disabilities to know that there is someone who understands them. I want them to know that I've got their backs. Best Buddies is a family. We've got each other's backs," says Andre.
Since joining Best Buddies, Andre's life has changed for the better. He has more self-confidence and truly believes in himself. Andre says, "I know I am capable of doing what I want to do. I met my best friend through Best Buddies and he believes in me. I have friends who love me for who I am."