Meet Teresa Plunkett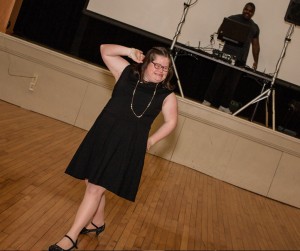 "Hello, my name is Teresa Plunkett, and I live in Pittsburgh. I am the Best Buddies Ambassador from the Duquesne University Chapter of Best Buddies. I am here to persuade you to support the BEST organization ever – BEST BUDDIES!
"Best Buddies is so awesome because my friends and I get to do really cool activities and events like the Friendship Ball, Pittsburgh Pirate games, and the Spread the Word to End the Word Concert.
"Let me tell you about these activities and how they make me feel. The Friendship Ball is so much fun because I like to get dressed up and dance with my friends. I get to sing out loud and I can always be found doing the Cupid Shuffle. The Ball makes me laugh and smile a lot.
"Going to the Pirate games makes me happy. I enjoy seeing my team in action and seeing my favorite players do well. I like being able to have a nice summer evening with my friends.
"The Spread the Word to End the Word Concert is a show the Duquesne Best Buddies program puts together to stop the use of the R-word. We have amazing performers who help us have a great time. Everyone should come together to stop the hurtful use of the R-word because it isn't nice, and we should show respect to everyone.
"I want to thank Best Buddies for including me in this great program. I want to thank my college buddy Julia and her friends for hanging out with me, making me feel happy, and being good friends. I am thankful for all the great friends I have met at Best Buddies. Lastly, thank you for listening. I hope I have encouraged you to support Best Buddies. We will teach you to look beyond anyone's disabilities and see all the amazing abilities each person has."