Meet Michael Pasquale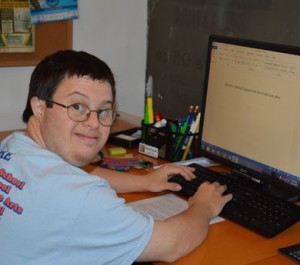 "My name is Michael Pasquale! I am happy to share my story with you! Everyone, I began working with Best Buddies Delaware in 2010 and I just had my fifth year anniversary party. It was a blast!
"I am also a buddy ambassador. I have been practicing my speeches and have presented at many schools with Program Manager Shannon Kowal. I feel so excited to do all of the speeches. I have spoken to small groups and large groups like Bank of America. It is so much fun. You should try it sometime! Just don't get nervous.
"I am so grateful to be part of the Best Buddies program. I have been helping my co-workers a lot and their names are Shannon Kowal, Tom Waite & Anne Karwath. I have been answering phone calls, learning new computer skills and, finally, managing some of the office details. Best Buddies Delaware is so awesome! It is a great experience.
"I have been matched up with my buddy Brian King for 4 1/2 years through the Citizens program. We network sometimes. We have been going to Best Buddies events like Game Night and an evening at the famous Longwood Gardens and we meet up for lunch! He is a great friend to me.
"Having friends is really important. You feel great to have friends to hang out with. You can contact each other every day. Thanks for listening to my story."