Meet Keith Venable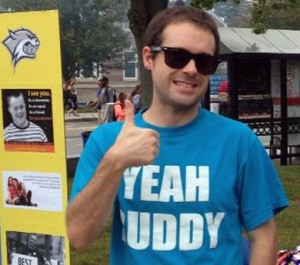 "Hi my name is Keith and I'm the buddy director at the University of New Hampshire. I started participating with Best Buddies in 2010 at the UNH campus, which I had been a member of for five years. Prior to Best Buddies I didn't have many friends. Although my Best Buddies experience has been positive, some of my personal obstacles such as my social phobia and certain emotional triggers would get in the way.
"Best Buddies has helped me learn coping skills during social interactions. Throughout my experience in Best Buddies there were many ups and downs. For example, it was difficult for people to interact with me. But my Best Buddies friends Christine, Emily and Alex kept on trying. They always showed me unconditional support. I have learned so much as a result of their understanding.
"Best Buddies members try to make it as fun as possible for everyone. They even try their best to find you a great match. In September 2012 everything changed when I met Sarah Brais at the speed-matching party. Sarah is my Best Buddy and not only has she made this whole experience amazing, she has had a profound effect on my life.
"As buddy director, I have developed my own set of personal goals. One of my goal is to ask every buddy what their goals are and to help them set goals for themselves. As buddy director I want to be there for them. I want to help them socialize and interact with the group. If they feel insecure about themselves, I will do my best to support them and speak on their behalf. For example, I will act like a goofball if need be in order to make them feel more comfortable. Here at Best Buddies we are all equal members of the same community. As we build friendships with one another, we open the door to new opportunities to help each other learn and grow."