Meet John Foster & Patrick Saathoff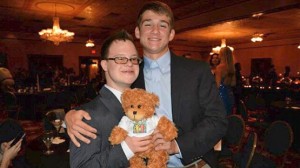 John has been involved with Best Buddies since 2011 and loves spending time with his buddy, Patrick. The buddy pair have been matched for the past three years and they both enjoy spending quality time together outside of school. There is no doubt that there is an unconditional bond between the two boys.
Before Best Buddies, John was reserved and did not have the confidence to talk to other people. Then he had the opportunity to participate in the Best Buddies Ambassador program and learn how to be a self-advocate and present a speech in a room full of people with the help of his peer buddy and speech coach, Patrick.
Best Buddies has not only helped further develop John's abilities, the organization has helped Patrick as well.
"John taught me to be a kinder and more loving person. He is one of my best friends and I have learned so much from him," said Patrick.
Best Buddies has also positively impacted the families of both John and Patrick.
"The relationship John and Patrick have created is genuine and unconditional," said John's dad. John's mom adds that "Without Best Buddies and Patrick, I am not sure if John would have been able to take part in the little things that other kids his age get to experience."