Meet Jody Mann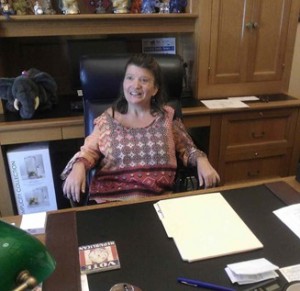 Jody Mann is truly a star within the community! She has been attending the Best Buddies Leadership Conference for 11 years where she has been able to continuously develop her natural leadership abilities; she was also one half of the first buddy match ever made at Miami University. Jody not only continues to be an excellent mentor and role model in our chapter, but also she has begun to be a champion throughout the state!
Her work help raise awareness and dollars for Best Buddies Ohio has proven that she will not rest until a Best Buddies office is opened in Ohio. She has addressed the Ohio Disabilities Council, Senator Bill Coley, and was a guest speaker at the state's disabilities awareness day. Recently, she was the keynote speaker for the Inaugural Best Buddies Gala at the State House, where she ended her speech with the following:
"Go light the path for others!! Join me in bringing Best Buddies to OHIO!! BE A STAR!!!"
Jody truly inspires others to want to follow in her path. At the gala, she encouraged the attendees to name a star after someone who inspired them and to make a cash donation in that person's name. In the five minutes after the speech, thousands upon thousands of dollars were donated to Best Buddies on behalf of the stars that inspire all of us.