Meet Nicole Whiston & Paul Sanker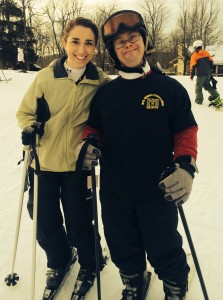 Nicole Whiston is a senior student who has been involved in Best Buddies the last four years and is the chapter president of the Duquesne University chapter. Nicole and Paul were matched her freshman year and started to click at the homecoming game back in 2010. When the chapter president at the time made sure that Paul, a Pittsburgh Steelers fan, was okay with having a buddy who was a Baltimore Ravens fan, he decided that they would be a great match. They are so thankful they were matched four years ago because they have had a great time getting to know each other and being each other's biggest fans.
Paul has been involved in Best Buddies for over 10 years and was able to show Nicole the ropes when they first started. Paul brought Nicole to as many of his Special Olympics tournaments on the weekends as he could and she was always willing to stand by and cheer on him and few other buddies in the program. Over the years they have enjoyed many movies, lots of lunches and dinners out on the town, various sporting events at Duquesne and in Pittsburgh, amusement park trips, and skiing trips. It's often difficult to decide whether Paul or Nicole has the bigger heart; they are both so dedicated to their friendship and it shows in how happy they each are when they are together.
At Best Buddies events this year, Nicole was often busy as the chapter president , however, Paul was always a few steps behind her asking how he could help with signing people in, or giving out name tags, or most importantly getting everyone to be quiet when she needed to make an announcement. Even when things got busy, they still supported each other unconditionally! When Paul hangs out with Nicole's friends he is constantly giving the guys pointers on how to win over girls by telling them how he stole Nicole's heart. They are both very lighthearted people who wholeheartedly support everything Best Buddies stands for and accept each other for exactly who they are.
As Nicole graduates this year, she notes that Best Buddies was truly the highlight of her college career and she treasures all the hours spent with the amazing group of people that make up Duquesne's chapter. The friendships made will last forever, and the story of Nicole and Paul is not nearly over yet.