Meet Cheyenne Boucher & Owen Sansoucie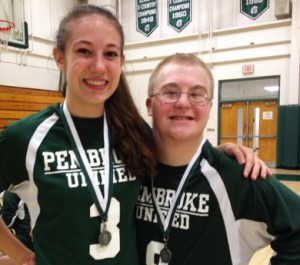 Cheyenne and Owen are a perfect example of what a Best Buddies Friendship is all about. They both attend Pembroke Academy in Pembroke New Hampshire, one of New Hampshire's first chapters. Cheyenne is the chapter president and has known her buddy, Owen, since Kindergarten. Best Buddies has given them new opportunities to spend time together and to share their special friendship with others. Their friendship is so natural, real and they really enjoy one another.
In September, 2014, something very special happened to Owen and Cheyenne; they were named Homecoming King and Queen! This was an honor bestowed upon them by their peers who saw first- hand the beauty of their friendship. They were both so thrilled! "Owen and I couldn't stop smiling," says Cheyenne. "We couldn't believe it! We hope that others will have the opportunity to experience the kind of friendship that Owen and I share. We are always there for each other. I can't imagine my high school experience without Owen! He just makes me laugh."
Best Buddies has given Owen and Cheyenne an incredible platform to share their story. Their school was featured on the nightly news magazine, The New Hampshire Chronicle in November. The feature shared a day with Owen and Cheyenne at school together and in a personal interview. Their happiness and joy and genuine friendship was obvious and a great testimony to Best Buddies.
"Cheyenne is very special to me and she wears the coolest shoes. And she dances with me, Owen says. "We do lots of fun things together in school and out of school." Owen's mom Danielle says, "Owen has always been a part of the community but being Best Buddies with Cheyenne has brought it to a level we never expected. We wanted Owen to have a fun, memorable high school experience and Cheyenne has had a lot to do with making that happen."
Cheyenne says, "I think the coolest part about Best Buddies is that I get just as much from being friends with Owen, if not more, than Owen gets from being friends with me. I am grateful for the opportunity to be involved with Best Buddies and to lead my chapter at Pembroke Academy!"