Meet Avery Stinchfield & Nichole Gill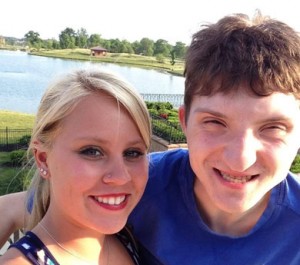 During the Inaugural Best Buddies Ohio Gala, Avery and Nichole had the opportunity to share their story with all the guests. Now you can read their story here.
Avery:
"Hello Everyone! My name is Avery Stinchfield, the buddy director for the Ohio State University Best Buddies chapter! I am 22 years old and I love to swim, sing, and go to sporting events and dances. I love my friends and meeting new people. I also have a job that I am proud of!
"I have been a part of the Best Buddies program for three years, and have represented The Ohio State University at the annual Leadership Conference in Indiana for the past two years. As a Best Buddies chapter, we have gone to movies, Blue Jackets games, held dances on campus, and more. The part I enjoy the most about the events, is that I get to see my friends… and just hang out.
"My Buddy is Nichole Gill and she is one of my best friends. We get together often and do everything from attending community events, like the Dublin Irish Festival; we go to the gym together, we go out to eat, and while we're in the car, we sing songs like crazy people. We both also share a love of swimming and do that together often. That's how we met a few years ago—we swam on a community swim team together while in high school. I love Nichole very much and she has changed my life.
"I am very proud to be a part of this organization, and very honored to be here. Now I would like to introduce you to my Buddy and best friend…Nichole Gill."
Nichole:
"Hi, my name is Nichole Gill and I am a junior at the Ohio State University studying special education. I have been a part of Best Buddies for the past two years. The second I met Avery I knew he would change my life for the better. The way he lights up a room is incredible and inspiring. I'm not kidding, whenever Avery enters a room, everyone else has a huge smile on their face and they basically create a line to get the famous Avery hug. I love that hug!
"Avery has the biggest heart out of anyone I've ever met. He's always thinking about how he can help the person next to him, or even someone across the world! I remember one time I was having a really terrible day, and Avery could tell, so he said three simple words (along with my name) that changed my terrible day, into the best day. He said "I love you Nichole Gill."